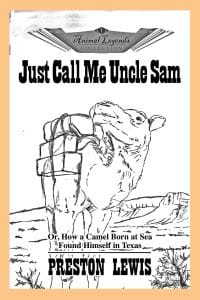 When painters or sculptors finish their artistic endeavors, they have something to display.  When writers finish a project, they have a stack of typewritten pages, nothing they can frame for the wall or display on a coffee table.
That's why it is always nice for a writer to see what the publisher is planning for the cover art for a completed manuscript.  The cover art is confirmation that all the work you did months earlier will finally bear fruit.
I just received the rough for my next young adult novel, Just Call Me Uncle Sam.  The book covers the adventures of a camel born at sea on his way to Texas as part of a pre-Civil War experiment to see if camels were a good fit for the Army in the American Southwest.
Just Call Me Uncle Sam will be out later this spring from Wild Horse Press.