Here's the next stage of the cover design for The Fleecing of Fort Griffin, a western caper scheduled for release later this year by Wild Horse Media in Fort Worth.  There may be a few tweaks, but this will be the general look of the new cover.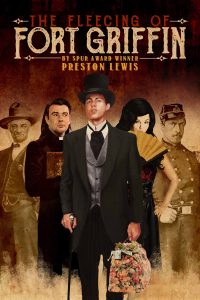 As things now stand with the tentative Wild Horse publication schedule, six of my books will be out this year, including three reprints and three originals.  Fleecing is one of the originals.
The other two will be young adult novels based upon actual animals from the history of the Old West.  First one up will be about the camel born at sea coming to Texas as part of the War Department's Camel Corps in the years prior to the Civil War.  The second will be about the famous Wyoming rodeo bucking horse Steamboat.  Both books will be written from the viewpoint of the animals, much like Robert Lawson's Ben and Me:  A New and Astonishing Life of Benjamin Franklin as Written by His Good Mouse Amos, one of my favorite books as a youngster.
Reprints will include the second and third volumes in the Memoirs of H.H. Lomax series, starting with The Redemption of Jesse James and Mix-Up at the O.K. Corral, which received a recent flattering reader review on Amazon.com.  Scheduled for 2017 is the tentatively titled Bluster's Last Stand, the next original novel in the Lomax series.  It will interject Lomax into the events leading up to Custer's downfall at the Battle of the Little Bighorn.  If only Custer had listened to Lomax, things might have turned out better for the Seventh Cavalry!
The other reprint scheduled for publication this year will be The Lady and Doc Holliday, my first historical novel.  Lady is based on the legend of Lottie Deno in Fort Griffin, Texas, in the late 1870s.
It will be a busy (and fun) year!