Like many folks, I've been a fan of Peanuts for as long as I can remember because of the wonderful characters and the understated philosophical insights into life that Charles Schulz provided on a daily basis for half a century.
There's an old adage in writing that it is harder to write short than long, best stated by Mark Twain in correspondence to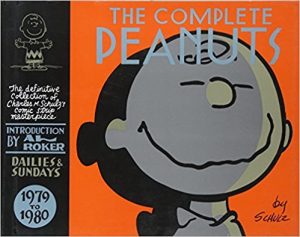 a friend when he said he would've written a short letter, but he didn't have the time.  Good writing in short packages is the biggest challenge of all, yet Schulz did it on a daily basis for 50 years.  Not only that, he also illustrated and captioned each panel he did for the newspapers.
Last year I decided I would secure the 25 volumes in The Complete Peanuts and read about Charlie Brown from the beginning, since Charlie and I were born the same year.  I've aged since then while Charlie never did, though he certainly matured over the years.  I knew that Schulz wanted to call the comic strip Li'l Folks, but I didn't realize until reading this collection that the name was changed by the syndicate as homage to the Peanut Gallery, where kids sat for The Howdy Dowdy Show, my favorite TV production as a child.  Thus, Peanuts referred to the little folks, though Schulz never really liked the title.
I have just started volume 19, covering the years 1987-88, and have enjoyed this chance to meet all the characters from the beginning and to re-live the trends and issues I grew up with as reflected in the comic strip.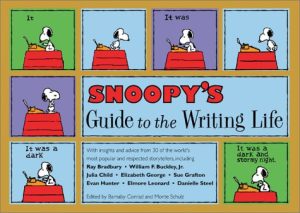 My favorite character, of course, is Snoopy, the Walter Mutty of the canine world and an aspiring writer.  His travails at the typewriter and the hilarious rejection letters provide a genuine window into the life of a writer.  Snoopy remains the greatest writer in comic strip history, adapting to the publishing trends of the time.  For instance, when Lucy tells him that he needed to do a political thriller, he writes "It was a dark and stormy night," then pauses before typing "Suddenly, a vote rang out!"
Other characters, such as Sally, also give great writing insight as well.  For instance, in the Sept. 25, 1984, strip, Sally tells her big brother "Our homework assignment is to describe a sunset."  She thinks for a moment, then writes, "The Sun went down as red as a banana."  She turns to Charlie Brown and then says, "Makes you appreciate the beauty of the written word, doesn't it?"
During its peak, Peanuts ran in 2,600 papers in 75 countries and in 21 languages.  In all, Schulz illustrated almost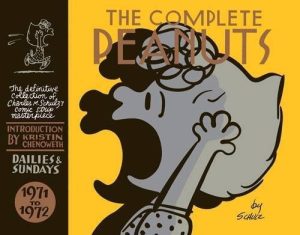 18,000 strips over his 50 years of doing Peanuts and took but one vacation, a five-week break to celebrate his 75th birthday.  He not only wrote short, but he also wrote well on a daily basis with great insight into life.  Fortunately, "Classic Peanuts" still runs in many newspapers and a variety of animated specials still keep the lovable loser Charlie Brown and all his friends in our hearts and minds.
For those that want to re-live the Peanuts experience and to enjoy its humorous insights into writing, I recommend The Complete Peanuts.