My favorite fiction genre is the historical novel.  I've always loved history and have enjoyed reading and writing novels that insert fictional characters into historical events.  One of my favorite western historical novels of all time is The Court Martial of George Armstrong Custer by Douglas C. Jones.
When I started writing westerns, one of the first things I did was to try to run down all the Spur-winning novels up to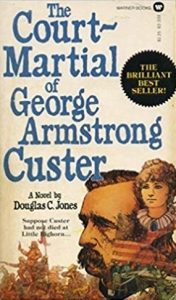 that time and read them.  I hesitated on The Court Martial of George Armstrong Custer because the premise—that Custer had survived the Little Bighorn and was called to account for his failures—was so absurd that I just couldn't believe the novel could hold my interest.  Boy was I wrong as it was one of only four books I can remember reading in a single sitting.  I would subsequently read all of his historical novels and found he had a great sense of story and an engaging style.
Jones was a resident of Fayetteville, Arkansas, where I did some genealogical research before attending a Western Writers of American meeting in Branson, Missouri, in 1984.  I decided to call him and see if I could drop by with my family so he could sign copies of his books for me.  I couldn't believe I had called him and that he said to come on over.  He signed all my books and encouraged me with my writing in the 30 minutes or so we had together.
Nine years later I returned to Washington County, Arkansas, for a WWA meeting in Springdale where I received my first Spur Award.  Jones was also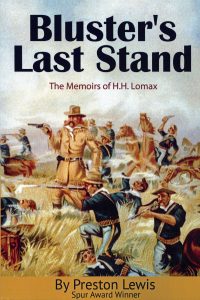 there that year to received WWA's Owen Wister Award for lifetime achievement in writing.  One of my great memories of that occasion was walking by his table to receive my Spur.  He made eye contact, smiled and gave me a thumbs-up gesture for my accomplishment.  It was a proud moment with that accolade coming from such a fine writer.
If you are interested in a great historical novel that is filled with accurate history in spite of its counter-factual premise, I would recommend The Court Martial of George Armstrong Custer.  And, I am pleased to have followed in Doug Jones' footsteps with my own counterfactual historical novel on Custer and the Little Bighorn in my latest, Bluster's Last Stand.