An old adage has it that everyone has at least one book in them and a few people can come up with two, but it takes three published books to be considered a legitimate author.  So, I was pleased when New Mexico Showdown first appeared in print.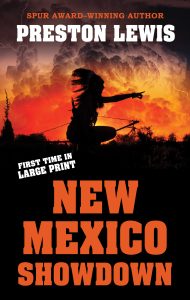 Pinnacle published New Mexico Showdown in 1989 and it was my second published novel.  Consequently, I was two-thirds of the way to being a novelist when it appeared in bookstores and on newsstands.
So, it is great to get a new cover for it as New Mexico Showdown is coming out in September in the large print edition.  Both Harriet and I liked the eye-catching cover and the memories its re-issue bring back.
The story follows an Apache renegade named Sulky who vows revenge on the gang of bandits who killed his wife.  The story is told through the eyes of Sulky, the sheriff who is on the trail of the bandits and a naïve young boy called Dummy who has been kidnapped by the gang.  It's a different twist on the vengeance plot of many Westerns.
It's nice to see New Mexico Showdown back in print, thanks to Five Star Publishing of Waterville, Maine.