The September issue of True West has a review of my latest novel by Spur Award-winning author Rod Miller.  Of Bluster's Last Stand, Rod says "if there's one thing missing from most western bookshelves, it's humor."  He goes on to praise me for filling the gap with my protagonist H.H. Lomax.
He concludes the review by noting that "while Lomax's accounts of Old West events don't always jibe with what's in the history books, they'll have you laughing at what might have happened—and maybe did."
Rod is also good at giving a humorous spin on the west with his character Rawhide Robinson, who spawns smiles and laughs wherever he goes on the frontier.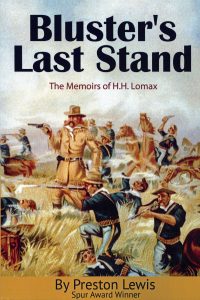 The review comes on the heels of word that Bluster's Last Stand was a finalist for the Will Rogers Medallion Award for humor on the west.  Charles F. Williams, executive director of the WRMA Committee, wrote "As always, Western Humor-Written is one of our most enjoyable categories, and this year was no exception.  Yours is one of many outstanding books, and it continues the tradition of memorable Western Humor that Will established and embellished."  The winner of the Will Rogers Gold Medallion will be announced in October in Fort Worth.
So it's been a good month for me and H.H. Lomax, my imaginary friend.