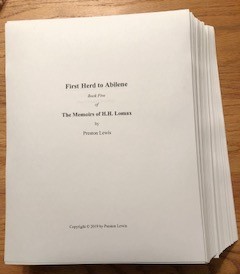 Good news for the fans of H.H. Lomax as the fifth volume in the series should be out in the spring of 2020.  Last month I sent off the manuscript to the publisher, Wild Horse Media, and the next volume in The Memoirs of H.H. Lomax has been added to the publication schedule.
First Herd to Abilene came in at 490 pages and 155,000 words.  If you ever cared to see what a manuscript looks like, the accompanying photo shows that it's not that spectacular, little more than a ream of typing paper.  Even so, it is satisfying to send it and an electronic version of the manuscript to the publisher.
This is a trail drive novel unlike any other western in the genre, as is usually the case with everything Lomax gets involved in.  This novel takes Lomax from the end of the Civil War to three years past the turn of the century and provides the backstory of his strained relationship with James Butler "Wild Bill" Hickok as alluded to in the preceding book in the series, Bluster's Last Stand.  In addition to Hickok, Lomax runs into Joseph G. McCoy, Calamity Jane, Jesse Chisholm and a bevy of Texas cowboys that he leads from San Antonio to Abilene, Kansas, more than 750 miles away.
It's another fun romp—or should I say stampede?—across the legends of the Old West.  Nobody stumbles over those frontier traditions better than H.H. Lomax, the hapless protagonist who always seems to be at the right place at the wrong time to create more problems than he resolves.  Even so, Lomax always finds a way to survive and even thrive as others bite the dust!
Can't wait to see him in print again next year as First Herd should be a great sequel to Bluster's Last Stand, which won the 2018 Will Rogers Gold Medallion Award for Western Humor!