As of 3:30 p.m. today, barely 24 hours after its release, my new comic western First Herd to Abilene is No. 1 in Amazon's Western Science Fiction category; No. 5 in Classic Humor Fiction; and No. 7 in Classic Historical Fiction.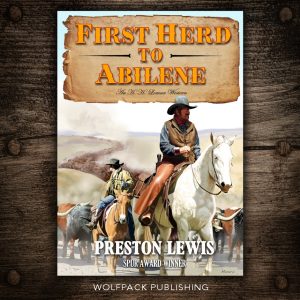 While I remain flummoxed about the Western Science Fiction category and its criteria, it's good to be No. 1 on any list.  On top of that, the omnibus edition of Bluster's Last Stand, which includes all four previous novels in the H.H. Lomax series, is now No. 15 on the same Western Science Fiction list.
At No. 5 in the Classic Humor Fiction category, First Herd trails No. 1 Alphalacious Billionaires Box Set, Hotshot Boss, Diary of a Bad Boy and The Princess Bride.
In the Classic Historical Fiction category, First Herd at No. 7 trails Pulitzer Prize winners The Color Purple and The Keepers of the House at Nos. 1 & 2; then A Healer for the Highlander, The Princess Bride, Circe and Highlanders Last Chance.
So, I'm traveling in some diverse company.  Thanks to Wolfpack Publishing for making it possible.