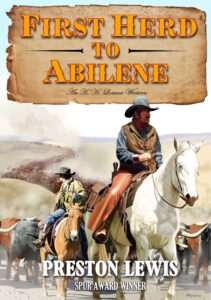 First Herd to Abilene was just released today as a Kindle Book and started out as No. 20 on Amazon's Western Science Fiction list.  Now I have no idea how it got on the Western Science Fiction list or exactly what Western Science Fiction is, but as of this writing it has moved up to No. 14 and is ahead of literary luminary Cormac McCarthy's The Crossing at No. 19.
First Herd checked in at No. 800 in the General Humorous Category, which I understand.  But Western Science Fiction?  I can explain Western and I can explain Fiction, but Science?  When our kids were still in school and came home with questions, I could answer history and English questions and that was about it.  When they came with queries in math, biology, geology, physics, chemistry or music, I would always reply, "That's a science question, go ask your mother!"
So, I'm referring the question of Western Science Fiction to Harriet for an explanation.