A day after its Kindle release, Volume 1 of the Preston Lewis Western Collection was ranked on four Amazon Best Seller Lists:
No. 4 in Classic Fiction Anthologies & Collections,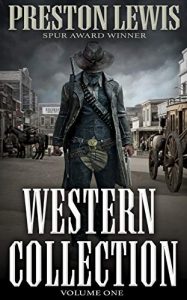 No. 7 in Classic American Fiction,
No. 8 in Louis L'Amour Westerns, and
No. 29 in Westerns
The anthology includes five of my previous novels, starting with Blood of Texas, my Spur Award-winning novel of the Texas Revolution.  Lone Survivor, a Spur finalist, tells the story of the last participant of a Texas feud and the terrible secret he carried for years.
Also included in the anthology is Choctaw Trail, one of my personal favorites, about a federal marshal in Indian Territory having to track down his own son.  Tarnished Badge about rustling in the Texas Panhandle and Santa Fe Run about Indian Agency corruption in New Mexico Territory round out the collection.
The e-book omnibus edition is the equivalent of 1,129 print pages and is available or 99 cents from Amazon.  Thanks to Wolfpack Publishing for making this possible.