I am pleased to announce the release today of the second volume in the Preston Lewis Western Collection,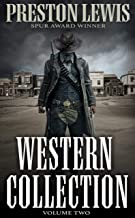 which includes five of my early westerns.
Thanks to the fine folks at Wolfpack Publishing for bringing out this e-book anthology that includes my first two novels, Hard Texas Winter and New Mexico Showdown.  Other books in the collection originally written under my Will Camp pseudonym include Blood Saga, Vigilante Justice and Escape from Silverton, which has a backstory I've never before shared publicly about the kinds of games authors play to amuse themselves and annoy their wives.
I had a dream years ago when I was working on the manuscript that became Escape from Silverton and, unfortunately, shared that dream with Harriet.  In the dream Will Rogers came to me and asked me to help him write an adage that he would forever immortalize him.  After days of hard thought, I returned to Mr. Rogers, Will not Fred, and told him I'd come up with the following saying:  "I never saw a man I didn't like."  He liked it but said I wasn't quite there and to come back to the next day with the revised version and I did.  However, instead of coming back with "I never met a man I didn't like," I revised the quote to say "I never manned a saw I didn't like."
Not only did I have a dream, I unfortunately shared it with Harriet who hurrahed me incessantly over it.  So, I decided I would fix her wagon and teach her a lesson and show her a writer's revenge.  Fast forward two years later and I had just received my writer's copies of Escape from Silverton and shared one with Harriet to read.  About three nights later we were in bed as she neared the end of the book and all of a sudden she cried out, "I can't believe this," and then flung the book across the bedroom.
By then, I'd forgotten my writer's revenge and cried out, "What's wrong with you?"
"This line," she groaned.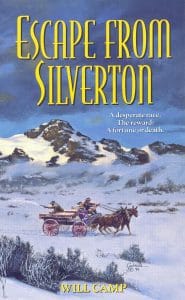 "What line?"
"The one 'I never manned a saw I didn't like'," she cried out.
Then it came back to me.  I had contrived a scene where my protagonist in trying to escape from Silverton, Colorado, had broken a wagon's rear wheel and not having a spare had sawed the back half of the wagon off, making a cart that would carry him to Durango and safety.
While my high school and college English teachers always talked about writers incorporating symbolism in their novels, the writers I've known over the years were more likely to write inside jokes and gags in their works to amuse themselves and tweak their acquaintances.
If there's a lesson here, it's never annoy a fiction writer because he (or she) can get back at you in ways you may never know.
As for the second volume of the Preston Lewis Western Collection, it's available from this Amazon link.