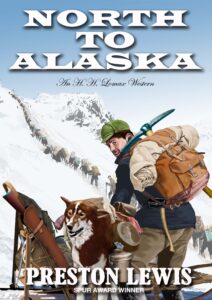 I am excited to share the cover of my latest H.H. Lomax historical novel North to Alaska, another beautiful front by artist and novelist Tony Masero.  This is his third cover for me in the Lomax series, and I love them all.
His previous Lomax covers include Bluster's Last Stand, which I adored for its irreverence, and First Herd to Abilene, which captured the essence of an old-time cattle drive.  Thanks, Tony, for such beautiful artwork.
North to Alaska is scheduled for an August release so I must also thank the Wolfpack Publishing gang of editor Lauren Bridges; associate publisher Rachel Del Grosso; and publisher Mike Bray for their role in continuing the adventures of H.H. Lomax, my hard-luck protagonist who finds himself in Skagway during the Klondike Gold Rush.
I have to admit I stole the title from the John Wayne movie, which remains one of my all-time favorites of The Duke.  This rollicking adventure takes Lomax from the Colorado Rockies to the Alaskan Territory and a showdown with notorious western conman Soapy Smith.  Along the way, Lomax encounters Colorado silver king Horace Tabor, Denver madam Mattie Silks, novelist Jack London, a frontier thespian, a talking dog and a persistent Wells Fargo investigator plus the most dangerous human being he has ever met in the west—Miss Susan B. Anthony.
Yep, leave it to H.H. Lomax to become to my knowledge the only character in the history of Western novels to date the legendary suffragist.  It was a moment that would stain Lomax's already shaky reputation for decades and make North to Alaska an entertaining read!