Texas Institute of Letters
I am honored to announce I have been elected to membership in the prestigious Texas Institute of Letters.  The distinguished literary society was established

during the state's 1936 Centennial to celebrate Texas literature and to recognize distinctive literary achievement.  I am one of 14 being inducted in the class of 2021.
To be added to the roster of TIL members is a wonderful accolade, especially since my writing career has been boosted and influenced by so many past and present members.  Longtime TIL member Jeanne Williams mentored me early in my fiction career, and best-selling Western author Elmer Kelton was a perpetual source of encouragement and inspiration.
Other TIL friends and supporters over the years have included Mike Cox, Judy Alter, Arnoldo de Leon, Leon Metz, Lou Rodenberger, Max Evans, Robert Utley, Paul Carlson, Kent Biffle, Dale Walker, Ty Cashion, Paula Mitchell Marks, Joan Lowery Nixon, and Donald Worcester plus many other members who I never met but whose works I have long read and admired.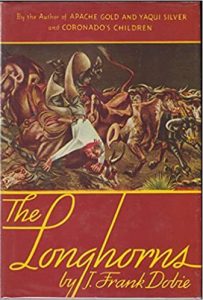 I believe life creates a certain symmetry, and that is certainly the case with me and the Texas Institute of Letters.  One of the early members and a driving force in TIL was southwestern folklorist J. Frank Dobie, whose works influenced my interests and writing career.  When in the fourth, fifth and sixth grades I found Dobie's books—especially The Longhorns—on the library shelves of Pease Elementary School in Midland, they sparked my fascination with the history of Texas and the Old West.
The allure of Texas and Old West history as recorded by Dobie shaped my fiction writing focus and interests.  So thank you J. Frank Dobie for firing my grade school imagination for an avocation that continues to this day, and thank you members of the Texas Institute of Letters for finding me worthy of your ranks.