I am pleased to reveal the cover of Rio Bonito, Book Two in my Three Rivers Trilogy on the Lincoln County War.  Rio Bonito is scheduled for release this August by Five Star, which has designed another striking cover reminiscent of the pulp art during the heyday of the western novel.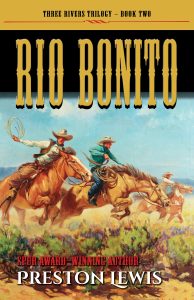 Rio Bonito is the sequel to Rio Ruidoso and continues the story of protagonist Wes Bracken, who refuses to align himself with either feuding faction and thus earns the enmity of both sides.  Since my parents first took me to Lincoln during a trip to Ruidoso, N.M. decades ago, I've been fascinated with the Lincoln County War, perhaps the most complex feud in the Old West because of so many countervailing economic, political, legal, personal and racial undercurrents in the dispute.
The Lincoln County War is remembered today for its most famous participant William H. Bonney, or Billy the Kid, who rides in and out of Bracken's life.  Though opinions vary on Billy, I tend to see him as a victim of circumstances beyond his control because of the perverse justice system that was corrupt all the way to Santa Fe, the territorial capital.  Justice wasn't just blind in Lincoln County; it was dead and buried like the victims of the bitter vendetta.
Fascinated by the fictional possibilities of the feud, I tried to envision how a decent man—Wes Bracken—might be drawn into the conflict while trying to do what's right.  Even in standing tall for what he believes is just, Bracken is labeled a vigilante, a rustler, and a murderer, though all he wants is to protect his family and neighbors from the marauding bands of outlaws roaming New Mexico Territory.
Rio Bonito takes Bracken's story through the feud's climactic shooting—or the "Big Killing" as it became known at the time—after which he promises to help Bonney extricate himself from the legal morass his deadly actions have created.  Rio Hondo, the final book in the trilogy, has been accepted for publication next year and will conclude Wes Bracken's challenging journey to ultimate justice in Lincoln County.