We just returned from Fort Worth and the Will Rogers Medallion Award ceremony where I was honored with gold and silver medallions for written western humor.  It is especially gratifying to win the humor honors in a competition named for Will Rogers, one of America's greatest humorists and one whose clean-cut humor and observations are timeless.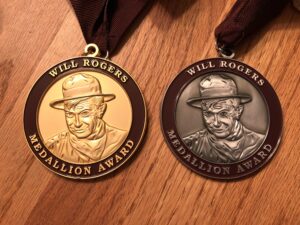 My trail drive novel First Herd to Abilene received the Will Rogers Gold Medallion in the humor category and my novel North to Alaska on the Klondike Gold Runs earned the Will Rogers Silver Medallion for written humor.  These were the fifth and sixth books in my Memoirs of H.H. Lomax series.
I love the WRMA folks and, apparently, they like me as this is my fourth gold medallion and my first silver. It's always fun to visit with other authors since writing is such a solitary craft.  You won't find a better group of down-to-earth folks than those who write about the American West, especially those who belong to Western Writers of America.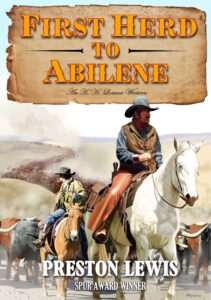 There's a funny story behind the gold medal for First Herd to Abilene.  It seems there was a typo in the engraving and author was misspelled "authhor."  Outgoing executive director Charles Williams and secretary Laurie Cockerell apologized profusely for the error, saying they checked their files and it was correct and it must have been an engraving glitch.
They offered to have the medal re-engraved, but I declined, especially after Harriet, whose name starts with an H, pointed out that it wasn't the sponsor's fault nor the engravers problem, as it was likely the mischievous handiwork of my protagonist, H.H. Lomax, who wanted to make sure I remembered he was the real "authhor" of his memoirs.
Suitably humbled, I am now most proud of the fortuitous typo, however it occurred.
In making the presentations to me, WRMA Executive Director Charles Williams said, "Both our Silver and Gold Medallions (for written western humor) are from a familiar and multitalented source, H.H. Lomax's alter ego Preston Lewis.  These books combine grins, giggles and guffaws with serious and solid scholarship, which is a neat trick indeed.  The Silver Medallion goes to North to Alaska, where we meet Mr. Soapy Smith, a deadly conman with a heart of greed.  The Gold Medallion goes to First Herd to Abilene where we learn that the cowboy's life is leavened with humor, even if the protagonist doesn't see it at first."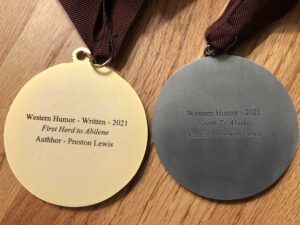 An author is no better than his publisher, and Wolfpack Publishing is innovative and topnotch.  My thanks go to the entire Wolfpack team, including Mike Bray, Paul Bishop, Rachel Del Grasso, Jake Bray and Lauren Bridges without whose editorial and marketing skills none of this would have been possible.
Also, I must thank my life's partner Harriet, who has tolerated my fooling around with imaginary characters all these years.