One of the things about being an author that never gets old is seeing an artist's cover representation of your work.  I just received the cover for Outlaw West of the Pecos, the seventh novel in my comic western series the Memoirs of H.H. Lomax.
Thanks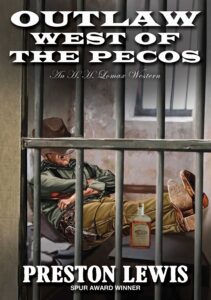 to Wolfpack Publishing and designer Martin Baines for the striking cover art.  Since my protagonist and his antagonists spend time in custody in this novel, the artwork is appropriate.  I especially like the rye whiskey bottle in the cell, sort of an incarceration with benefits, which is befitting for a Lomax novel.
In Outlaw West of the Pecos, Lomax matches wits—or halfwits—with Judge Roy Bean, deadly Texas pistoleer John Wesley Hardin, a corrupt El Paso constable, a feckless reporter, an ambitious boxing promoter and even a crooked newsboy.  For the first time in his career Lomax even wears a badge and literally cleans up the streets of El Paso.
As all of this is going on, El Paso becomes the focal point of efforts to host a championship prizefight that the Presidents of the United States and Mexico and the governors of Texas, New Mexico Territory and Chihuahua have vowed to stop.  Relying on his friendship with Judge Roy Bean, Lomax is able to outsmart two presidents, three governors and the Texas Rangers to arrange the oddest heavyweight championship bout ever on a sandbar in the middle of the Rio Grande River outside Langtry, Texas.
Outlaw West of the Pecos is scheduled for publication in paperback and e-book formats on February 9th and will be available through Amazon for those looking for a dose of western history and humor.