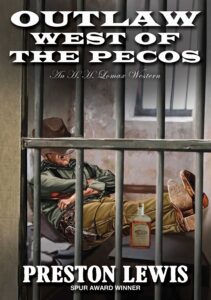 Wednesday is the release date for Outlaw West of the Pecos, the seventh book in my comic western series "The Memoirs of H.H. Lomax."  The three previous volumes in the series have received Will Rogers Medallion Awards, two gold and one silver, for written western humor.
In this volume Lomax must match wits against famed Texas jurist Judge Roy Bean, noted gunman John Wesley Hardin, crooked border lawmen and an anonymous El Paso newsboy against the backdrop of the weirdest heavyweight title match in prizefighting history.
Here's how the inimitable Lomax begins his latest adventure:
"While I never intended to wind up dangling from the last car in a westbound Southern Pacific passenger train as we approached the Pecos River gorge, bad things always found me anytime I passed through that godforsaken country people called Texas.  Nor did I have plans to stop in Langtry, Texas, but I did, and the sporting world was a better place because of it.  By the time this chain of events had finished, I'd been dragged multiple times before the wisest judge in the history of the Old West, roomed across the hall from the worst lawyer—and that's saying a lot—who ever walked the face of the earth, outwitted two presidents and three governors, wound up in a cage with a bear drooling over me for his next meal, fed an African lion before he ate me and wore a badge while cleaning up the streets of the meanest town in Texas.
"All of this resulted from an unfortunate railroad accident when an ace slipped from my sleeve during a friendly Southern Pacific smoking car game with four Texas cattlemen…"
By the time Lomax finishes spinning his yarn, he has outwitted everyone, including himself, to survive against all odds in El Paso, Texas.  One critic has called the Lomax series "historical and hysterical fiction."
Trade paperback and e-book editions of Outlaw West of the Pecos are available on Amazon.com, thanks to Mike Bray, Paul Bishop and all the fine folks at Wolfpack Publishing.