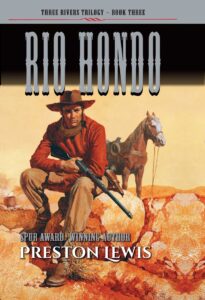 Today marked the release of Rio Hondo, the third book in my Three Rivers Trilogy on the Lincoln County War.  Published by Five Star—Cengage/Gale, Rio Hondo follows the story of Billy the Kid in the aftermath of the feud that turned southeastern New Mexico Territory into a tinderbox between 1878 and 1881.
Billy the Kid is a peripheral character in Rio Hondo, much like he was in the feud itself, but even so he drives the action that motivates my protagonist Wes Bracken, who is only trying to live a decent life and build a future for his family against all the forces that are working against him.
The novel focuses on the Kid's effort to get a pardon from territorial Governor Lew Wallace, who during this time was working on his novel Ben-Hur: A Tale of the Christ.  In one of the oddest encounters in the history of American politics and jurisprudence, the governor and the outlaw actually met in a face-to-face meeting to work out details of a pardon.  Both men left then encounter with different interpretations of their agreement.
Rio Hondo follows Rio Ruidoso, which explored the racial animosities which preceded the Lincoln County War, and Rio Bonito, which thrust Wes Bracken into the intertwined animosities of the classic Old West feud.  All three are available in hardback on and will be published late next year in an e-book edition.
My thanks to senior editor Tiffany Schofield and editor Hazel Rumney for taking on the trilogy and enhancing it with their editorial skills.  A special thanks to Hazel, who I've known since the 1990s and who is retiring this summer.  She was always a joy to work with.