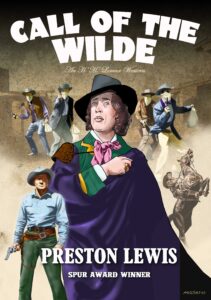 Call of the Wilde, the eighth volume in my comic western series based on the memoirs of H.H. Lomax, is scheduled for release by Wolfpack Publishing on March 21.
In this adventure, the hard-luck Lomax comes face to face with Oscar Wilde, the oddest character he's ever encountered in his travels out west.  In this tale of crime and fun-ishment, Lomax matches wits and holds his own against one of the wittiest purveyors ever of the English language.
On the trail to becoming Wilde's personal bodyguard, Lomax is falsely accused of a bank robbery in Texas, escapes the Lone Star State for Utah in search of a wife (or wives) and makes his theatrical debut on a Utah stage before hooking up with the young poet, resulting in frontier hilarity.
Lomax may not have won the west, but he made it fun with his unpredictable adventures and his knack for running into the celebrities of the time, even if they came across the Atlantic to reach the Wild West.