Preston Lewis Anthologies
Thanks to e-books, many of my novels have been published in electronic anthologies, including the first four volumes of The Memoirs of H.H. Lomax as well as my earlier works including my Spur-winning historical novel Blood of Texas and Spur finalist Lone Survivor.  Check out the following for great story-telling at an economical price.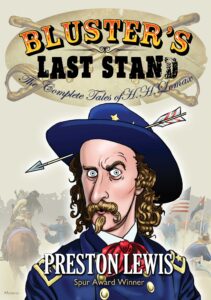 Bluster's Last Stand:  This anthology of my H.H. Lomax novels includes the title novel on the Battle of Little Bighorn plus The Demise of Billy the Kid, The Redemption of Jesse James and Mix-Up at the O.K. Corral.
The Demise of Billy the Kid was the first volume in The Memoirs of H.H. Lomax and places my protagonist in the middle of the murderous events that became known as the Lincoln County War.  And for all Lomax's enemies in the dispute, the similarly named conman Gadrich Lomax is his perpetual nemesis.
The Redemption of Jesse James is a coming of age novel set in northwest Arkansas during the Civil War.  Though the second book in the series, it is the first chronologically and chronicles the hardships of two families on opposite sides of the conflict forced to join up for their mutual survival.  The story is both humorous and poignant as young Lomax learns about life, death and girls.
Mix-Up at the O.K. Corral thrusts H.H. Lomax into the cauldron of Tombstone during the tumultuous tenure of Wyatt Earp and Doc Holliday, who are not heroes in Lomax's mind.  Before he departs Tombstone, everyone not only knows Lomax is destined to be shot, but also are betting on where he will take the bullet.  Luck, wit and a cat named Satan help Lomax survive his time in Arizona Territory.
Bluster's Last Stand takes H.H. Lomax from the Battle of Adobe Walls to a Waco brothel to Dakota Territory where he makes an enemy of Colonel George Armstrong Custer, who forces Lomax to accompany the Seventh Cavalry on its ill-fated expedition to the Little Bighorn.  Luck and a rattlesnake help Lomax survive his encounter on Last Stand Hill.
Enjoy them all by purchasing the e-book edition of Bluster's Last Stand.
Preston Lewis Western Collection, Vol. 1:  This volume includes two of my award-winning novels with Blood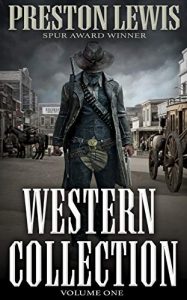 of Texas and Lone Survivor.  Three others are Choctaw Trail, one of my favorites, Tarnished Badge and Santa Fe Run.
Blood of Texas (Spur Award Winner):  Rubio Portillo is faced with a choice between his heritage and what he believes is right.  He chooses right and joins the 1835 Texas Revolution for freedom from Mexico. His decision costs him not only his friends but also his betrothed.  Leaving the Alamo to seek reinforcements, Portillo ultimately joins Houston's army in the battle for freedom and fights for liberty with white men who doubt his loyalty and his own Texas birthright.  Even when Texas Independence is secured, Portillo understands that rebuilding his life would take as much courage dedication and strength as it did to join the rebellion to begin with.   In the end, Portillo will write his own name on the roll of heroes of the Republic of Texas.
Lone Survivor (Spur Award Finalist):  After fifty years in prison for his part in the Barton-Trimble feud in post-Civil War West Texas, Clements Barton has a terrible secret he must get off his chest to a turn-of-the-century reporter.  Known in his youth as the Palo Pinto Kid, Barton recounts his story on how the feud began and grew more savage each day.  The feud started with a practical joke and ballooned into a vendetta that took the lives of many men and cost Barton the love of his life as well as fifty years in prison. As Barton recounts his role in the terrible tragedy, he opens old wounds and reveals untold secrets.  By the time he is done. Barton has revealed the awful truths behind the Barton-Trimble feud.
Choctaw Trail:  Retired U.S. Marshal Doyle Hardy is called back into service to track down the culprit in a brutal double murder in Indian Territory. The no-nonsense lawman working out of Fort Smith, Arkansas, returns to the trail to track down the murderer, who he doesn't want to admit is his own son.  Though his son will earn an appointment with the hangman if Hardy captures him, the old lawman is dedicated to enforcing the law, even when the culprit is his own flesh and blood. The trail through Indian Territory offers nothing but danger as Hardy must fight off outlaws hoping to settle old scores with him.   Ultimately, Hardy must confront his own son and hard family truths that he had tried to avoid in all his years as a lawman.
Tarnished Badge:  Like all ranchers in the Texas Panhandle, Ty Stoddard is plagued by rustlers until he and some of his neighbors track one down and hang him. Then Stoddard is plagued by his conscience, especially when word gets out the dead man may have been innocent.  With his brother-in-law as sheriff, Stoddard believes he can get to the bottom of the ongoing rustling, but the deeper he digs the more he comes to believe the sheriff is actually behind all the livestock thievery. Honest men, including Ty's own father, die as the desperate rustlers try to cover their tracks.  In the end, Stoddard must choose between honesty and family if genuine law is to come to the Panhandle.
Santa Fe Run:  Morgan Garrett's western sojourn continues in New Mexico Territory when he takes a clerk's job at the sutler's store a Fort Bansom, a U.S. Cavalry outpost manned by buffalo soldiers and commanded by a crooked colonel.  Before long on the job, Garrett figures out the commander is looking the other way and pocketing kickbacks from the sutler's manipulation of government contracts. When he realizes the colonel sees him as a threat, Garrett must make a run to Santa Fe to alert the territorial authorities. In a race against death, Garrett must outride both the cavalry on his tail and a band of Apaches led by the fierce warrior Pachise.  If he wins the race, he will correct the mistreatment of the Apaches chasing him. If he loses, the Apaches will take his scalp.
Check out the Preston Lewis Western Collection, Vol. 1.
Preston Lewis Collection Vol. 2:  This collection includes Hard Texas Winter, my first novel, and others of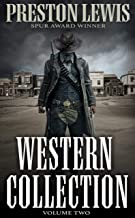 my early work, including New Mexico Showdown,  much of the story told by a dim-witted boy.  Other books include Escape from Silverton, Blood Saga and Vigilante Justice.
Escape from Silverton:  When Blake Corley's luck turned colder than a Colorado winter, he knew he must leave Silverton to survive, even if it was the dead of winter.  Agreeing to freight back to Durango the coffins of two dead payroll guards killed in a robbery, Corley takes with him a prostitute named Penny and a black laborer named Moses.   What they don't know is they are carrying more than just bodies—the actual haul from the fatal robbery.  If Blake is to survive, he and his passengers must beat the frigid weather and outwit the robbers who take out after them to recover their ill-gotten gains.   The race from Silverton to safety in Durango will require Blake's wits and bravery as well as all the bullets he can find.
Blood Saga:  When Virgil Child returns to New Mexico Territory with his mother's coffin to bury her beside his father, he discovers his father's grave has been obliterated.  This desecration forces Child to confront those who murdered him two decades earlier and stole Child's birthright.   The only possession remaining of Child's father is a handkerchief stained with the elder Child's blood and the names of his killers written on the cloth in his mother's hand.  Outnumbered and outgunned, Child must use his wits and his belief that right will indeed triumph to battle the thieving killers, who deprived him of his father and the land that had once belonged to his family.  The Child saga is written in blood. The only question is whether Virgil's own blood will fall on New Mexico soil.
Vigilante Justice:  Facing a prolonged drought and vindictive neighbor Lemuel Blunt, Hugh Hampton must fight the elements and his neighbor to keep his small West Texas ranch.  Both the weather and the law, as it turns out, are beyond Hampton's control as Blunt has the sheriff in his pocket.  What is a man supposed to do when the law is perverted and there's nowhere to turn?  Hampton turns to vigilante justice if he and his dreams are to survive.  Ultimately, Hampton must face the threat of the gun and the double standard of frontier Texas justice.  Only a sharp lawyer and a bit of luck can help Hampton avoid the noose for a killing he committed and another he didn't.
New Mexico Showdown:  When the Bastrop gang kills his squaw, renegade Apache Sulky vows revenge and pursues the badmen as they murder and plunder their way across New Mexico Territory.  The law compels Marshal Whit Whitman to chase the outlaws as well.  Friends long ago, Sulky had led death to Whitman's door a few years back and the wounds from that encounter are still tender.  Both men must put aside their differences to kill the Bastrop gang without hurting the dim-witted boy the outlaws forced to ride with them.  In fighting a greater evil, both Whitman and Sulky must come to terms with their past.  In the end only one will survive this New Mexico showdown.
Hard Texas Winter:  In the aftermath of the Civil War, Morgan Garrett heads west in search of work and a new start.  Neither comes easy for the man burdened with a lame arm as a constant reminder of the lost war.  With winter approaching he finds both work and trouble in Crossrock, Texas, a small town dying under the boot heel of hardcase Brad Decker.  When he fights back against the Decker's cold dealings, Garrett finds himself headed for a showdown with only a single ally. Big Bill Murphy, a former Union soldier. Now men who once fought against each other are forced to stand together against a powerful gang.  Not all will survive the cruelest winter in the town's history.
Enjoy the Preston Lewis Western Collection, Vol. 2.