Comic Novels
A western editor once told Preston Lewis that he wrote funny.  Now that could've been taken as an unflattering comment were it not for H.H. Lomax, a character Lewis created in the 1990s at the invitation of Bantam and Book Creations Inc.  As it happens, Lomax just happened to have left a trail of chaos and hilarity throughout the Old West in The Memoirs of H.H. Lomax.  If something went wrong in the West, Lomax was probably somewhere in the background.
In addition to the Lomax books, Lewis's The Fleecing of Fort Griffin is a western caper that introduces a bevy of offbeat characters trying to scam a naïve Englishman planning to start a buffalo ranch in Fort Griffin, Texas.  Fleecing won the 2018 Will Rogers Gold Medallion Award for written western humor.
In The Memoirs of H.H. Lomax the Arkansas native recalls his encounters with Billy the Kid, Jesse James, Doc Holliday, Big Nose Kate, Wyatt Earp, Johnny Ringo, George Armstrong Custer, Buffalo Bill Cody, Calamity Jane, Wild Bill Hickok and other legends of the Old West.  Based on a cache of recollections handwritten on Big Chief Tablets, the Lomax stories show more about how the West was fun rather than how the West was won.  Lomax seldom succeeds, but he always survives.  Based on sound historical research, Lomax's exploits are sure to leave readers with grins on their faces as Lomax stumbles and bumbles his way across the Old West.
The Demise of Billy the Kid:  After a lawyer's untimely death in Leadville, Colorado, H.H. Lomax escapes to New Mexico Territory.  As Lomax tells it, "…like all skunks his killing raised a stink, and folks figured I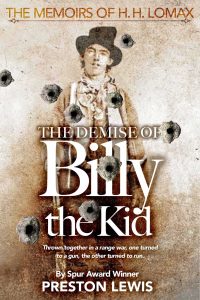 was the man who had performed this valuable public service.  These folks, a lot of good and decent people when they were sober, decided to throw a necktie party in my honor, but I declined the invitation, thanks to a little help from a friend and a mule I called Flash."
When H.H. Lomax crosses paths with Billy the Kid, he winds up embroiled in the Lincoln County War, which is made even more dangerous when he and the Kid take a liking to the same senorita!  Along the way, Lomax matches wits with John Chisum and Pat Garrett as well as rustlers and outlaws of all stripes as he tries to survive the violence that engulfs southeastern New Mexico Territory.  As Lomax describes his experience, "I never understood why it was always so easy to take up with the bad crowd and so hard to ride with decent folks."
Explore what really happened in the Lincoln County War, at least from Lomax's perspective, in The Demise of Billy the Kid.
The Redemption of Jesse James:  Everyone knows Jesse James was straightening a family photo on the wall when he was shot, but few realize that it was Lomax who bumped the wall in the first place.  Set in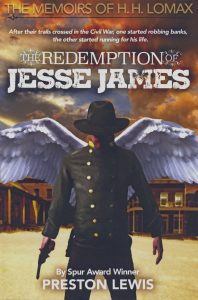 Civil War Arkansas and Missouri, The Redemption of Jesse James is the coming of age story of  H.H. Lomax.
As Lomax remembers it, "The truth of the matter is I might never have met any of the James family had it not been for Abraham Lincoln.  Old Abe—not some cannonball over Fort Sumter and not slavery—brought on the War Between the States, and the war brought out the meanness of folks in the Ozarks."  Caught between boyhood and maturity, Union sympathizers and Confederate bushwhackers, Lomax must grow up in trying times.
Even a fortune in Confederate gold only adds to Lomax's troubles as he tries to help his family survive the shifting alliances and increasing deprivations of Civil War Arkansas.  For mutual safety, Lomax's family must share their home with the neighboring Burke family, including Pooty Burke, Lomax's childhood nemesis, and Pooty's three ugly sisters.  Before he is forced to take up with Jesse James, Lomax survives ambushes, his own hanging, and his first love.
Experience the poignancy and hardships of Civil War Arkansas in The Redemption of Jesse James.
Mix-Up at the O.K. Corral:  As Lomax recalls, "Things might have turned out different in Tombstone if I hadn't had a toothache and Doc Holliday hadn't had bad breath.  A lot of men died as a result, though not likely as many as needed killing."  So begins Lomax's sojourn in Arizona Territory.  Though he opens a successful saloon in Tombstone,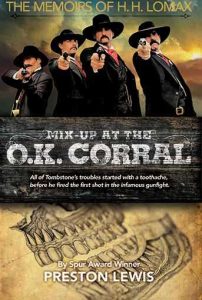 Lomax soon finds himself caught between the rock of the Earps and Doc Holliday and the hard place of the Clantons and Johnny Ringo.
Though he must use his wits to survive, Lomax is soon scared witless by the many bad men who are corrupting the politics of Tombstone for their own gain and a crooked lawyer.  As if that isn't enough, Lomax clandestinely courts a young lady from a powerful family and must contend with a cat aptly named "Satan."  By then Lomax has made so many enemies everyone is making bets on where Lomax will be shot.
On the day of the climactic gunfight at the O.K. Corral, Lomax is being hunted by the Earps and Holliday, who intend to settle their scores with him.  When they encounter the Clantons and McLaurys instead, Old West history is made, but not without Lomax's contribution to the affair.
Unravel the events that preceded and followed the famous gunfight as Lomax saw them in Mix-Up at the O.K. Corral.
Bluster's Last Stand:  After Lomax encounters George Armstrong Custer, one of the most flamboyant and controversial figures of the Old West, only one is destined to survive their mutual loathing!   Lomax never intended to wind up in the guardhouse at Fort Abraham Lincoln or on Last Stand Hill with the Seventh Cavalry, but Custer was out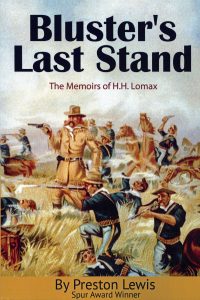 to get him before history overtook them both in the worst defeat of the frontier Army.  As Lomax noted, "I called him 'General Bluster' because there weren't enough mirrors in the world to adequately reflect his opinion of himself." 
Lomax later recalled, "My aim was to shoot George Armstrong Custer, not to make him famous.  Maybe I shot him and maybe I didn't.  I never knew because it was hard to confirm if you hit your target when hundreds of screaming Sioux and Cheyenne warriors were also firing at him—and at me."
Before he runs into Custer, Lomax survives the Battle of Adobe Walls, works as a bouncer in a Waco brothel, prospects for Black Hills Gold with two naive telegraphers and tends bar in a Dakota saloon.  Along the way he hunts buffalo with Bat Masterson, renews his friendship with Buffalo Bill and denies allegations of a feud with Wild Bill Hickok.  Told with Lomax's characteristic wit, Bluster's Last Stand takes readers on a humorous romp across the Old West.
Learn what really happened at the Little Bighorn as Lomax recalled it in Bluster's Last Stand.
Bluster's Last Stand (Omnibus Edition):   The first four volumes in The Memoirs of H.H. Lomax are combined in this Wolfpack Publishing ebook edition.  All the initial Lomax editions are available for one low price, starting with the first book in the series, The Demise of Billy the Kid, which provides a new perspective on William H. Bonney and the Lincoln County War.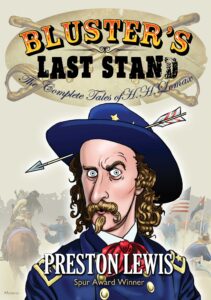 First chronologically in the series but the second book to be published in the memoirs, The Redemption of Jesse James was a Spur Finalist.   Redemption is a coming of age novel set in northwest Arkansas during the Civil War as Lomax grows from a boy to a young man.  Emotions range from the humorous to the tragic as Lomax navigates the tumultuous events of the War Between the States.
Mix-Up at the O.K. Corral interjects Lomax into the confusing events that led up to the famous gunfight.  Lomax becomes the first person in literary history to have a tooth extracted by gambler/dentist John Henry "Doc" Holliday, whose bad breath leads to a passel of unanticipated events and deaths.  Mix-Up was also a Spur Finalist.
In a wide-ranging novel taking Lomax from the Battle of Adobe Walls to a Waco whorehouse to the Little Bighorn, Bluster's Last Stand gives a new perspective on George Armstrong Custer and the demise of the Seventh Cavalry.  With a little luck and a lot of ingenuity, Lomax survives both Custer and the Sioux to later ride with Buffalo Bill's Wild West and re-enact the famous massacre.
First Herd to Abilene:  Leaving home after the Civil War, Lomax helps Wild Bill Hickok with his fast draw and then witnesses the pistoleer's famous shoot out with Davis Tutt in Springfield, Missouri.  Fearful he will be blamed for the shootout, Lomax leaves Springfield and winds up in Abilene, Kansas, where entrepreneur Joseph McCoy hires Lomax to distribute leaflets throughout Texas to encourage cattlemen to drive their herds to the Kansas railhead.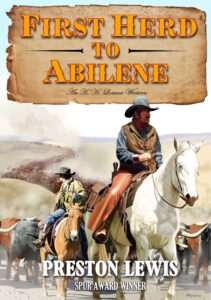 With an incentive to lead a herd back to Abilene, Lomax hooks up with a down-on-his-luck rancher outside San Antonio and drives the rancher's cattle to market up north.  The trail hands divided into two camps and fight each other as much as the hazards of the trail, including thunderstorms, flash floods, stampedes, rabid skunks and a trail cook whose meals are as risky as the other trail dangers.
When a trio of dissatisfied cowboys try to rob the trail boss of the ranch's profits, Lomax through a bit of luck and a lot of ingenuity survives being hanged thanks to the timely arrival of Wild Bill who is serving as a federal marshal.  The encounter, though, further chafes the relations between Lomax and Hickok, who vows to shoot Lomax the next time they meet.
That encounter occurs in Deadwood, Dakota Territory, a decade later.  Only the timely intervention of Calamity Jane saves Lomax from becoming Hickok's next gunfight victim.  In the end, Hickok's obsession with Lomax results in his own death.
North to Alaska:  Twice bitten by the gold bug, first in 1870s Colorado and later in 1890s Alaska Territory, frontier vagabond H.H. Lomax first winds up in Denver where he meets legendary Madam Mattie Silks and her leech of a lover, who is threatened by Shotgun Jake Townsend, the greatest frontier assassin who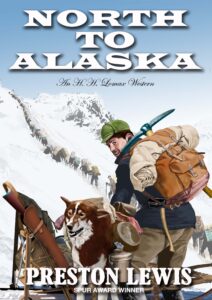 never was.  Mattie hires Lomax to protect her boyfriend and brothel, but Lomax wants to earn his fortune, so he leaves Denver for Leadville and the latest mining boom.  His dreams turn to cold dust in Leadville where he is swindled out of a mining fortune by a crooked lawyer in cahoots with legendary conman Soapy Smith.  When Lomax is blamed for the lawyer's ensuing murder, he escapes Leadville with the aid of a mule named Flash.
Two decades later in Alaska where he's living under an alias and managing a Skagway saloon and opera house, Lomax crosses paths again with the dangerous Soapy Smith and his operatives who are intent upon defrauding every local prospector with a dream of striking it rich on the Klondike.  Lomax must match wits with Smith and his brigands if he is to survive and prosper, but he has too many skeletons in his closet to survive unscathed. 
Between Leadville and Skagway, Lomax encounters noted suffragist Susan B. Anthony, inspires novelist-to-be Jack London, and even acquires a talking dog.  To overcome his previous missteps and avoid a prison sentence for theft, Lomax must outshoot infamous Western scam artist Soapy Smith, outwit an unrelenting Wells Fargo investigator pursuing him for a previous theft and outrun the imaginary assassin Shotgun Jake Townsend.  
Outlaw West of the Pecos:  Accused of cheating at cards on a Southern Pacific passenger train in far West Texas, H.H. Lomax is kicked off the train and finds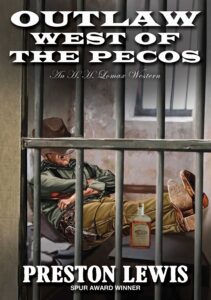 himself at the mercy of the unpredictable justice of Judge Roy Bean, who calls himself "Law West of the Pecos." After being fined of all his money, married, and divorced by the judge in a matter of minutes, Lomax discovers an unlikely connection to the magistrate.
Against a backdrop of a pending world heavyweight championship bout, Lomax heads to El Paso to interest someone in writing and publishing Bean's biography. He winds up in an El Paso boarding house across the hall from Texas killer John Wesley Hardin. They despise each other, but Hardin fears Lomax's straight-arrow Texas Ranger brother and treads lightly around Lomax. Because of Hardin's crooked connections in El Paso, Lomax gets caught between him and corrupt constable John Selman.
Along the way, Lomax earns a badge and cleans up the streets of El Paso as the wicked city becomes the focal point of efforts to host a championship prizefight that everyone from the Presidents of the United States and Mexico to the governors of Texas, New Mexico Territory and Chihuahua have vowed to stop. Calling on his connections to his Ranger brother El Paso officials and the promoter of the boxing match, Lomax uses his Judge Roy Bean friendship to pull off the oddest prizefight in heavyweight history.  Check out this knockout of a Lomax tale in Outlaw West of the Pecos.
Western Caper
Capers form a literary subgenre more generally associated with Mystery novels than with Westerns.  Standard caper elements include oddball characters, plot twists and a surprise ending.  The Dortmunder mystery series by Donald E. Westlake ranks as one of Preston Lewis's favorites for plot twists and humor, influencing his comic writing.  Among movies, the Academy Award-winning The Sting plus The Usual Suspects could be considered capers.  The Fleecing of Fort Griffin is Lewis's first western caper.
The Fleecing of Fort Griffin:  Word spreads fast when a crazy Englishman planning to start a buffalo ranch arrives in Fort Griffin with a satchel full of money to buy land.  Swindlers from all over West Texas arrive in town to fleece Baron Jerome Manchester Paget of his savings.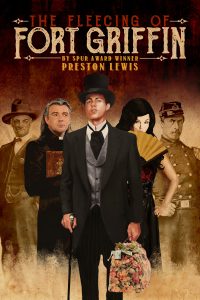 The con artists include the crooked gambler Joe Loper, the miracle-working Rev. G.W. "God Willing" Tuck and Wallace and Amanda Sikes, who pull a jealous husband scam.  Then there's professional widow Flora Belmont, who's buried five husbands, and the dangerous gunman "One-Eyed" Charlie Gatliff, who figures to cut to the bone of the matter and just shoot the Englishman for his money. 
Mix in the eccentric Fort Griffin residents that are awed by royalty, and Baron Paget is up against an army of Texans more interested in his money than his safety.  Only the orphan Sammy Collins and the baron's rooster, which Paget uses as a guard instead of a watchdog, seem to be on his side. 
Travel with Baron Paget as he tries to survive his stay in The Fleecing of Fort Griffin.