Historical Novels
An avid reader, Preston Lewis is especially fond of American history from the Civil War to the end of World War II.  He has an extensive library that reflects his special interest in the Old West, largely because that was the history surrounding him growing up in West Texas, and in the Civil War because of the many fascinating stories that came from that period of the American saga.
Because of his interest in American history, he especially enjoys writing historical novels where he can dramatize the events of the past or insert a fictional character among the historical figures of the time to see what happens.
His historical novels include the four books in The Memoirs of H.H. Lomax series.  Bluster's Last Stand, the fourth book in the Lomax series, won the 2018 Will Rogers Gold Medallion Award for western humor.  First Herd to Abilene and North to Alaska received Gold and Silver honors for western humor in the 2021 Will Rogers Medallion Awards.  Blood of Texas, his historical novel on the Texas Revolution, won a Spur Award from Western Writers of America for Best Novel.  The Lady and Doc Holliday is set in the 1870s Fort Griffin, Texas.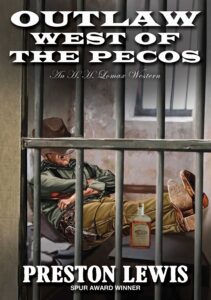 Outlaw West of the Pecos:  Accused of cheating at cards on a Southern Pacific passenger train in far West Texas, H.H. Lomax is kicked off the train and finds himself at the mercy of the unpredictable justice of Judge Roy Bean, who calls himself "Law West of the Pecos." After being fined of all his money, married, and divorced by the judge in a matter of minutes, Lomax discovers an unlikely connection to the magistrate.
Against a backdrop of a pending world heavyweight championship bout, Lomax heads to El Paso to interest someone in writing and publishing Bean's biography. He winds up in an El Paso boarding house across the hall from Texas killer John Wesley Hardin. They despise each other, but Hardin fears Lomax's straight-arrow Texas Ranger brother and treads lightly around Lomax. Because of Hardin's crooked connections in El Paso, Lomax gets caught between him and corrupt constable John Selman.
Along the way, Lomax earns a badge and cleans up the streets of El Paso as the wicked city becomes the focal point of efforts to host a championship prizefight that everyone from the Presidents of the United States and Mexico to the governors of Texas, New Mexico Territory and Chihuahua have vowed to stop. Calling on his connections to his Ranger brother El Paso officials and the promoter of the boxing match, Lomax uses his Judge Roy Bean friendship to pull off the oddest prizefight in heavyweight history.  Check out this knockout of a Lomax tale in Outlaw West of the Pecos.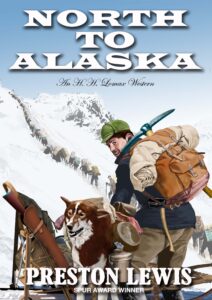 North to Alaska:  Twice bitten by the gold bug, first in 1870s Colorado and later in 1890s Alaska Territory, frontier vagabond H.H. Lomax first winds up in Denver where he meets legendary Madam Mattie Silks and her leech of a lover, who is threatened by Shotgun Jake Townsend, the greatest frontier assassin who never was.  Mattie hires Lomax to protect her boyfriend and brothel, but Lomax wants to earn his fortune, so he leaves Denver for Leadville and the latest mining boom.  His dreams turn to cold dust in Leadville where he is swindled out of a mining fortune by a crooked lawyer in cahoots with legendary conman Soapy Smith.  When Lomax is blamed for the lawyer's ensuing murder, he escapes Leadville with the aid of a mule named Flash.
Two decades later in Alaska where he's living under an alias and managing a Skagway saloon and opera house, Lomax crosses paths again with the dangerous Soapy Smith and his operatives who are intent upon defrauding every local prospector with a dream of striking it rich on the Klondike.  Lomax must match wits with Smith and his brigands if he is to survive and prosper, but he has too many skeletons in his closet to survive unscathed. 
Between Leadville and Skagway, Lomax encounters noted suffragist Susan B. Anthony, inspires novelist-to-be Jack London, and even acquires a talking dog.  To overcome his previous missteps and avoid a prison sentence for theft, Lomax must outshoot infamous Western scam artist Soapy Smith, outwit an unrelenting Wells Fargo investigator pursuing him for a previous theft and outrun the imaginary assassin Shotgun Jake Townsend.  See how Lomax survives the cold and the gold bug in North to Alaska.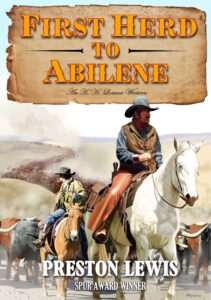 First Herd to Abilene:  Escaping the violence in northwest Arkansas in the aftermath of the Civil War, H.H. Lomax meets Wild Bill Hickok in Springfield, Missouri, and begins a journey that takes the hard-luck Lomax on an adventure that starts with the first cattle drive to Abilene and ultimately ends with the demise of Hickok and Calamity Jane.
By accident, Lomax is responsible for Hickok's legendary gunfight with Davis Tutt.  Fearing Hickok will hold a grudge in the aftermath of the shootout, Lomax escapes Springfield and agrees to promote Joseph G. McCoy's dream of building Abilene into a cattle town by distributing flyers throughout Texas.  Near San Antonio he meets a rancher, falls in love with his young cook and agrees to lead the first Texas herd to Abilene.  Along the way, he encounters Indians, rabid skunks, flash floods, a stampede and the animosities of three fellow cowboys trying to steal profits from the drive.
That trio of rogue cowboys threatens to hang Lomax unless he reveals where the money is hidden, but Lomax is saved by the timely arrival of now U.S. Marshal Hickok.  Lomax uses counterfeit wanted posters to convince Hickok his assailants are wanted felons with rewards on their heads.  Lomax and Wild Bill go their separate ways until they run into each other a decade later in Deadwood, Dakota Territory, where Hickok vows to kill Lomax for getting him fired from his marshal's job after attempting to claim fraudulent rewards.  Luck and Calamity Jane help save Lomax, but not Hickok.  Three decades later Lomax returns to Deadwood to claim an inheritance and sees that Calamity is buried next to him even though Wild Bill despised her.
Ride the cattle trail to Kansas with H.H. Lomax in First Herd to Abilene.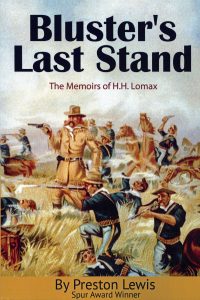 Bluster's Last Stand:  Events on the Little Bighorn might have turned out better for George Armstrong Custer had he listened to H.H. Lomax rather than trying to kill him. To save his own skin–and scalp–Lomax must outwit Custer and his troopers as well as face the horde of Sioux and Cheyenne warriors swarming Last Stand Hill.
At least that is how Lomax tells the story in his inimitable and humorous romp across Old West history. Lomax's latest misadventures take him from the Battle of Adobe Walls to Buffalo Bill's Wild West show. In between, he's a bouncer in a Waco whorehouse, a prospector in the Black Hills, a bartender in a Dakota Territory saloon and a combatant in the worst defeat in the history of the frontier Army.  Everywhere he goes, he is haunted by his past with Wild Bill Hickok, but along the way he makes friends with a pair of naive telegraphers, a bevy of soiled doves, a half-dozen Seventh Cavalry troopers and a mule he names in honor of his nemesis, George Armstrong Custer.
Told with Lomax's characteristic wit, Bluster's Last Stand puts a new spin on the Little Bighorn and its aftermath. Whether you believe him or not, you've got to admire Lomax's luck and pluck in both surviving one of the darkest days in Old West history and writing about the disaster in the latest volume of The Memoirs of H.H. Lomax.
Accompany the Seventh Cavalry and Lomax as they make the fateful and fatal journey toward the Little Bighorn in Bluster's Last Stand.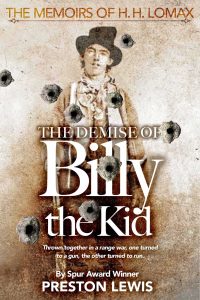 The Demise of Billy the Kid:  Though the Lincoln County War remains one of the Old West's most fascinating and most complex feuds with multiple levels of economic, ethnic and political complexity, it is best remembered today for the exploits of a minor participant—Billy the Kid.  In the first book in The Memoirs of H.H. Lomax, Lomax crosses paths with Billy from the beginning of the conflict until The Kid's final night on earth.
Though they start out as friends and riding companions, Lomax and Billy wind up at odds over a senorita and the politics of outlawing.  In his droll and often irreverent way, Lomax observes the many characters involved in the Lincoln County War and along the way meets the likes of Pat Garrett, John Chisum, Ash Upson and outlaws on both sides of the conflict.
As potential employer John Henry Tunstall says of Lomax in comparison with The Kid, "He's not as good with a gun, but he'd make another target if shooting starts."  In evaluating the intellect of Tunstall and his co-conspirator Alexander McSween, Lomax counters, "If I was as smart as McSween and Tunstall made out to be, I'd at least have been worried about being shot by a dumber man."  Lomax may not be the smartest man around, but he is a survivor, unlike many of his Lincoln County acquaintances.
Try The Demise of Billy the Kid, a novel with enough history and action for longtime fans of the Old West and enough humor for those who have never explored this rich period of American history.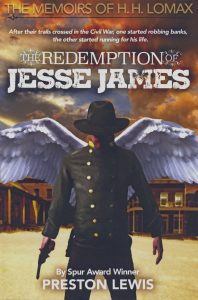 The Redemption of Jesse James:  Though this historical novel is categorized as a western because of its connection to Jesse James, it is more aptly a Civil War novel about the coming of age of H.H. Lomax during the turbulent war years in northwest Arkansas.  The second volume in The Memoirs of H.H. Lomax, this historical novel explores the choices the neighboring Lomax and Burke families have to make to survive during the Civil War years.
With roving bands of partisans making life miserable for all, families in northwest Arkansas often paired up Confederate with Union so that they might not be burned out.  Conflict is set when the Union-sympathizing Burkes, minus the husband and father, move in with the Confederate-backing Lomaxes.  In addition to his own sisters, Lomax now has to deal with the Yankee-loving Pooty Burke and his three ugly sisters.
Even so, the Burkes are nothing compared to the roving partisans, including Jesse James, and the two armies that torment or make life difficult for those folks just trying to survive the war years.  With a combination of childhood innocence and precocious insight, Lomax in his droll way grows up, falls in love and takes actions that will save both the Lomaxes and Burkes, yet make him an outcast from his home for most of his life.
Explore The Redemption of Jesse James for a poignant look at Civil War life through the eyes of the young H.H. Lomax.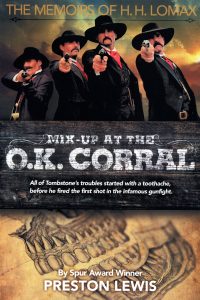 Mix-Up at the O.K. Corral:  History has never determined with certainty who fired the first shot at the most famous gunfight in the annals of the Old West.  H.H. Lomax knows because he was there.  In the third volume of The Memoirs of H.H. Lomax, Lomax stirs up more trouble than he can sort out in Tombstone, Arizona Territory.
Lady Luck and a marked deck of cards win Lomax a saloon, which he parlays into a thriving Tombstone business against all odds, but as soon as things start going well they start going bad for him.  Sure he spat in Doc Holliday's drink, took an ill-timed ride on the Benson Stage, started rustling cats and, worst of all, turned to a lawyer for help with a disputed property title, but that was no reason for the folks of Tombstone to start taking bets on where he would get shot!  Maybe they were just mad that he was cutting their drinks.
Whatever their motivations, Lomax walks among the legendary figures of Tombstone without a single friend among the Earps, Clantons, McLaurys and others.  When the shooting finally starts Lomax is not only dodging bullets, but also multiple spurned women, a diabolical cat and a reputation that he can't escape.
If Tombstone was indeed the town too tough to die, then Lomax is the toughest—or luckiest—man ever to set foot on the dusty streets of the Arizona mining town.
Investigate Mix-Up at O.K. Corral for a look at how Lomax survives against all the odds in Tombstone.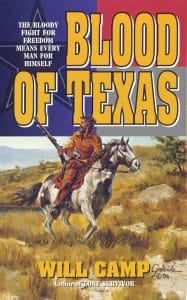 Blood of Texas:  Rubio Portillo is faced with a choice between his Mexican heritage and what he believes is right.  He chooses right and joins the 1835 Texas Revolution for freedom from Mexico.  His decision costs him not only his friends but also his brother and his betrothed, the fickle Angelita Sanchez, forcing him into an alliance with the grizzled and racist frontiersman Donley Calder.  Events and Calder's daughter, Mary, draw the two men together in a matter of survival.
From the Come-and-Take-It cannon at Goliad to the street battle at San Antonio de Bexar, Portillo and Calder fight side by side for independence.  Their paths diverge at the Alamo when Portillo is dispatched for reinforcements.  Along the way, Portillo rides with Ben Milam, Davy Crockett, William Barrett Travis and Jim Bowie in the name of Texas before joining Sam Houston's troops.
As he battles for Texas freedom, Portillo must also fight the suspicions of the white men who doubt his loyalty and his own Texas birthright.   Even when Texas Independence is secured, Portillo must return to San Antonio and face the evil Juan Paz who has claimed his rancho and his betrothed for his own.  Portillo understands that rebuilding his life will take as much courage, dedication and strength as it did to join the rebellion to begin with.  The question is whether Angelita or Mary will be by his side.  In the end, Portillo will write his own name on the honor roll of Republic of Texas heroes.
Ride with Rubio Portillo as he fights for Texas Independence and his dignity in the Spur Award-winning historical novel Blood of Texas, written under Lewis's Will Camp pseudonym.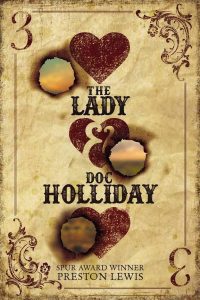 The Lady and Doc Holliday:  Set in Fort Griffin, Texas, in 1876-77, this historical novel builds upon the legend of Doc Holliday's unrequited love affair with the beautiful lady gambler Lottie Deno.  Rough-and-tumble Fort Griffin is the location where legend says Holliday first met his lifelong pal Wyatt Earp and the tempestuous Big Nose Kate Elder.  The triangle of Doc, Lottie and Kate threads its way through the novel, which provides a gritty look at frontier life in West Texas in the time of buffalo hunters, prostitutes, outlaws and vigilantes.
While violence surrounds Fort Griffin, most of the showdowns in this novel take place across a card table when Holliday and Deno face off in games of poker or Faro.  In addition to an unvarnished look at frontier life in 1870s West Texas, the historical novel demonstrates how gamblers played and cheated at a variety of games of chance.
For Holliday, the greatest game of chance is his relationship with Big Nose Kate, whose schoolgirl affection for Doc is countered by her flaming temper at his indifference.  Even after Deno counters every gambling and courtship move by Holliday, he cannot escape his crush on the lovely Lottie.  In the end, though, Holliday must rely on Big Nose Kate to escape Fort Griffin and to ride with her into legend.
Check out The Lady and Doc Holliday for a look at the harsh realities of life on the edge of the Texas frontier.